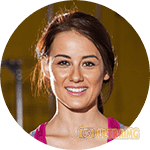 Sometimes, the skin of the shoulder becomes darker than the brighter complexion of our face. The difference in skin tone seems to be visible enough in spite of applying makeup. Actually, due to excessive sweating, the sweat gets accumulated on the areas around neck and this makes that area darker compared to the skin tone of face. However, by taking a little extra care we can easily make the areas around our neck and the shoulder area much brighter and fairer. In this case, using natural remedies is the best option.
But to get the desired result, it needs to be complete care. Today we get to understand how to completely take care of our necklines and shoulder areas. You will also get to know how to perform a step by step skincare routine from beginning to end. Apart from this, we will also talk about the benefits of the ingredients used in this process.
Things required for making the neck brightening scrub:
1 tablespoon of Extra Virgin Coconut Oil
½ tablespoon baking powder
1 tablespoon Graded Coffee
A Vitamin C tablet cut into half
First put the coconut oil in a bowl and mix the graded coffee in it. Now again mix the baking powder to it and mix the whole mixture properly. Now make a powder out of the Vitamin C tablet and mix it into it. Thus you get your desired neck brightening scrub.
Store the scrub separately. Now we are going to make a face Pack.
Let's take a look at the things we will need to make the pack.
1 teaspoon Aloe Gel
½ teaspoon turmeric powder
1 teaspoon Coconut Milk
½ teaspoon lemon juice
Mix together the Coconut Milk, turmeric powder and lime juice in a bowl. Then mix the Aloe Vera Juice in it. If you want a thicker paste, then blend the mixture in a food blender.
Now after you are done preparing the scrub and the pack you should start for the application. Here the whole process is described step by step.
1st Step:
Soak a towel in hot water and wrap the whole towel around your shoulder. Wait for 5 to 7 minutes. This will open up the closed pores which will help in bringing out the dirt from inside.
2nd Step:
Now apply the scrub which you have prepared all over the shoulder. Massage the scrub gently in a circular motion for 10 minutes. Do not massage by applying excess pressure as this may cause skin damage. After 10 minutes, massage the neck with warm water to wash and dry.
3rd Step:
Apply the pack all over the dry skin around the shoulder and neck with a brush. Wait till it dries. After 15 to 20 minutes when it dries totally wash it off with warm water just like before.
4th Step:
Apply a thin layer of moisturizer all over your cleaned neck and shoulder. Follow this process at least once a week and you will see a visible difference within a short time.
You have just learnt the process of doing the complete care for your neck and shoulder.
Now let's get to know about the effectiveness of the ingredients used in the pack and the scrubber.
Baking Powder:
Baking Powder is an excellent ingredient when used for skin exfoliation. Although most of the time baking soda is referred as an ingredient for the skin care, it is harmful to skin. In that respect, baking powder is a much safer option. Baking Powder cleans the skin smoothly and deeply without doing any harm. Moreover, baking powder also works best in removing pigmentation.
Coffee:
Coffee is an effective ingredient to make dry skin appear lively and smooth. Coffee is enriched with antioxidant properties. It protects skin from the damages caused by sun exposure. Using it regularly for skin makes the complexion brighter.
Vitamin C:
Vitamin C is enriched with skin lightening properties. It lightens and brightens the skin from inside. The anti ageing properties present in it helps in getting rid of aging lines and wrinkles. Other than removing the skin pigmentations and dark spot it also helps in reducing the sun burnt damages.
Coconut Milk and Coconut Oil
Coconut Milk and Coconut Oil both works as a good skin cleanser. These two ingredients provide nutrients to the skin. Coconut oil also gives the skin a natural glow.
Aloe Vera Gel
Aloe Vera gels helps in keeping the skin hydrated and the natural cooling agent present in it restores back the skin vitality.
Lemon
Lemon works as an active ingredient for fighting the skin aging process, dark spots, pigmentation and other such problems. Lemon also helps in lightening the skin naturally. Moreover, apart from controlling excessive sweat it also helps in keeping the skin fresh.
Turmeric
The anti bacterial property of turmeric helps in getting rid of acne problem naturally. Other than this, turmeric also helps in retaining the skin elasticity and vitality.
Following the above described process will let you have a brighter and fairer shoulder and help in getting rid of dark discoloration. However, you should follow this routine for at least 2 months. Since, only natural ingredients are used in this process, you can keep continuing it.