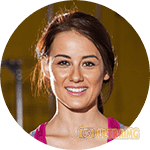 Active Brightening Face Serum is one of the anti-ageing creams that make your skin young-looking and radiant without the use of any costly treatments or injections. This cream claims to give you better results than Botox.
This is quite an impressive claim indeed, and hence you need to check thoroughly to see if these claims are properly justified or not. Also, this product comes as a trial offer and has an auto-ship policy attached to it. Therefore, you need to be extra careful before investing your money in this cream.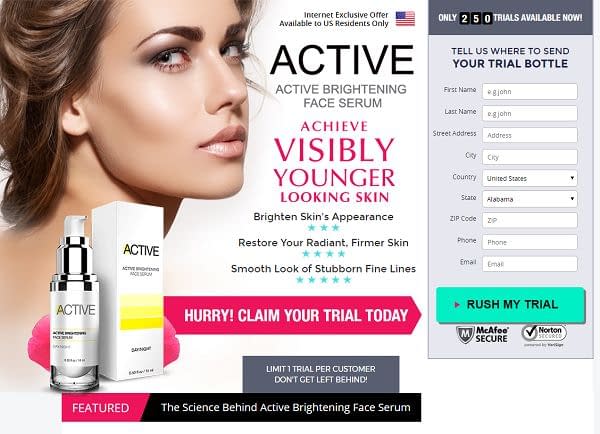 What does Active Brightening Face Serum claim?
The sales page of Active Brightening Face Serum claims that this is an injection-free solution to getting back the rejuvenation and radiance on your skin. It assures the following:
Confirmed reduction in the appearance of wrinkles and fine lines by 84%
Improves the skin's capacity to produce collagen by 95%
Reduction in the formation of dark circles by 73%
You are sure to get excited when you read through these claims. However, do they justify the hype around them? For this, you need to compare various other factors like the pricing, ingredients, and terms & conditions of Active Brightening Face Serum, so that you can make a qualified decision and ensure that you invest in the right product.
What is Active Brightening Face Serum made of?
You can easily check if a product is authentic or not, by its ingredients. Active Brightening Face Serum doesn't provide you any information in this regard. It doesn't have a detailed label which contains the list of its ingredients and its dosages. The website doesn't give any information either, about the components used in making this cream. Therefore, we are unable to check the effectiveness of this cream on your skin. In addition to the ambiguity, there is also an additional risk that you might find some ingredients that you allergic to, in this product, as you are so unsure. Thus, it is safe to stay away from this product.
Pricing of Active Brightening Face Serum
There are two main features to the pricing structure of Active Brightening Face Serum – trial offer & auto-ship policy. The cream is available for trial for 14 days, after which the price shoots up to $89.85, if you fail to cancel your subscription within the trial period. Since it is an auto-ship product, Active Brightening Face Serum will keep sending you monthly supplies and charge you heftily for it. This will continue until you cancel your subscription. All of these terms can be seen only when you read through the terms & conditions thoroughly. For all general and cancellation queries, you can call on (877) 982-4901 or email to info@activefaceserum.com
Bottom Line
Active Brightening Face Serum doesn't say anything about its ingredients. This is indeed a huge minus point for the product and makes us wonder if it could contain anything that could cause damages to our skin. It's ambiguous pricing structure doesn't help its cause as well. Therefore, our recommendation is to look for other anti-ageing creams that are far more effective, transparent and affordable, as it will give you the assurance of knowing what you use for your skin. Active Brightening Face Serum is too ambiguous to be trusted, is our final word.