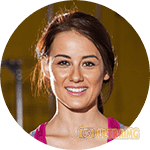 Therefore, there are many anti-aging eye serums available in the market today that promise to give a lift to our eyes. Choice Renewing Eye Cream is one of them.
It vows to remove the dark circles and make our eyes look fresh as ever. Seems like an ideal solution for your eye problems?
Don't hurry in making your decision. Spend some time to understand the claims, components and the pricing of this product to know if it is worth your money.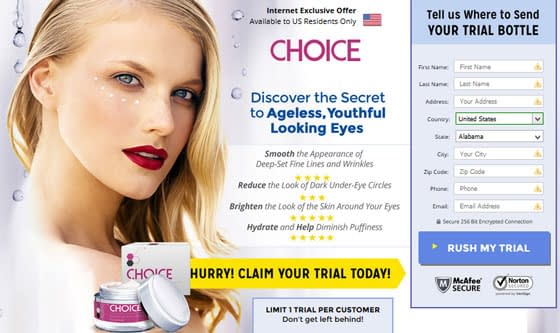 What does Choice Renewing Eye Cream claim?
Choice Renewing Eye Cream is no different from anti-ageing beauty products in the matter of making tall claims on their website. You are sure to be carried away by the sugar-coated claims made on this website like the following:
Great smoothening impact on the stubborn fine lines and wrinkles
Visible reduction in the appearance of dark circles
Overall improvement in the brightness and texture of the skin around the eyes
Great improvement in the hydration levels of one's skin
You should never believe these claims until you have enough facts to prove their authenticity. You can save yourself from being exploited by illegal products when you do your checks properly.
What does Choice Renewing Eye Cream contain?
A product's effectiveness is decided by the quality of the ingredients. So, you have to check what Choice Renewing Eye Cream is made up of, to know if the cream is worth its price or not. Unfortunately, you are in for a huge disappointment in this matter. The product's site doesn't mention anything about the components. The only details that we get from the site are that this product uses hyaluronic acid and proprietary formulae to act on the wrinkles. It would have been better if the product had been more open about its other ingredients.
Pricing of Choice Renewing Eye Cream
Choice Renewing Eye Cream is available on a free trial for 14 days.  If you sign in for the same, you will be included in the recurring shipment program as well. Remember to cancel your subscription before the trial period ends. Else, your credit card will receive a huge charge of $88.78 towards the first month's usage.  Monthly shipments of the product keep reaching you once in every 30 days, and you need to pay $88.78 towards the same every month. This continues until you cancel your subscription by calling 877-748-6652 or emailing info@trychoiceeyecream.com
Bottom Line
It is tough to recommend the Choice Renewing Eye Cream for users because we are not clear about the ingredients used here. We are also quite disappointed with the steep prices and the auto-ship policy of the product. Therefore, we feel that this product doesn't deserve your hard-earned money. When a product is not transparent about the basic things, we feel that it is only natural that you avoid it. This way, you can prevent heartaches and unpleasant surprises in the form of a huge financial burden.