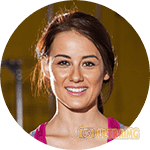 Core Skincare claiming "Decrease your wrinkles by 89% in just 3 weeks" or even "Better than Botox" (yes they claim that) are strong claims. The truth is you should be skeptical before buying products such as Core Skincare.
Read the full review and list of their active ingredients before deciding to splurge your money as they simply might be a waste of your time and money.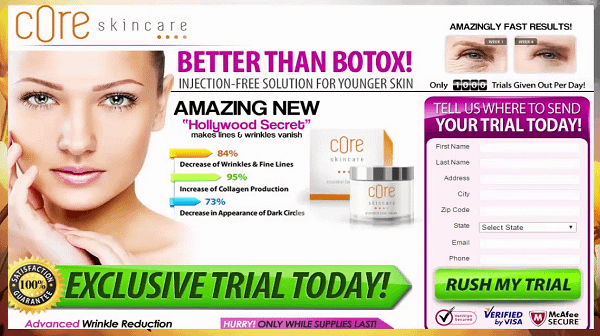 What does Core Skincare claim?
Core Skincare advertises itself as a great Botox alternative that can drastically eradicate all signs of aging including:
An obvious decrease in wrinkles and fine lines by 84%
Obvious decrease in dark circles and droopy eyes by 73%
A brighter and more even-toned youthful complexion
The product also claims rather than injecting collagen like Botox and similar treatments, that it can make your own body produce collagen to fill in loss of elasticity and tone. However, these claims should be taken lightly unless we can really see the product's action. The PROOF of this product's efficiency is in its actual ingredients but do they actually list them?? Read further to find out.
What does Core Skincare contain?
Hmm, here comes the disappointing part as the the product ingredients aren't found neither on the website that sells it nor in the package, which leave us guessing whether if it contains good stuff or bad. So for this reason, and because no-one should try a product with unknown ingredients that back up their bizarre claims, we recommend that you think twice before purchasing it and trying it out.
Pricing of Core Skincare
If we check out the product's main website we'll see that they offer a free 14-day trial to try out the product. However, the extra shipping charges are not included in this free trial and you'll have to pay extra for that. Also, in case you don't like the product and don't cancel your subscription within 14 days, your card will automatically be charged $94.90 each month which is pretty pricey and you'll need to pay that amount monthly unless you cancel. Since this can be a big issue, send them an email to cs@coreskintreatment.com within a 14 days to cancel so you'll avoid getting charged later.
Bottom Line
Some things seem a bit shady about the product, Core Skincare. Like for example the fact that no ingredients are listed on the website or its package–or its whopping automatic $94.90 they charge every month unless you request cancellation. Therefore, think twice if you are going to order or try out the supposed free trial and seek out products that actually list everything you pay for instead–from their ingredients to their purchase policies. Transparent products and companies are far more reliable than these bizarre and old salesman pitched products.