Now a day, in the market, is a skincare product Cosmedique that, like so many others, promises to keep your skin in good condition and keep you looking young or younger. Cosmedique claims to use scientific techniques to, naturally, reduce any signs of aging.
I'm not sure how natural these scientific techniques are and I'm going to look into these claims now. Once I'm more informed about Cosmedique, then it will be easier to make a decision as to whether it is worth spending your hard-earned cash on. So, let's take a look and see exactly what is on offer here.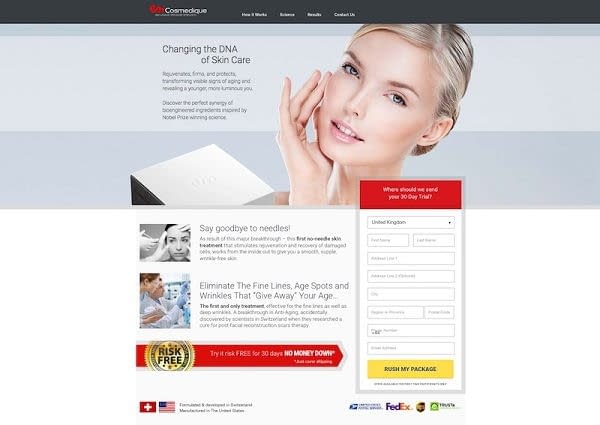 What are the claims of Cosmedique?
According to the claims of the beauty product, you can achieve amazing results by using it regularly. First of all, it claims to reduce the puffiness and sagginess around the skin of your face. It further removes the baggy area around the eyes permanently. Without undergoing the knife of a plastic surgeon, you'll get a natural lift of the skin. ? Well, to find out if these claims are really true or not, we need to do a little more research into the product and the first step is to find out the ingredients of the Collagen restore age repair formula.
Ingredients of Cosmedique
In our initial research into the ingredients of the product, it was quite worrying to discover that there was very little mention of what it consisted of! You need to know what you are putting on your skin so that you can be assured that, firstly, it will work for you and, secondly, that you are not doing more harm than good. For me, it's impossible to believe its claims of fresh and young skin. Interestingly, its manufacturer says that it's a beauty secret for the several Hollywood stars. However, there is not a single argument to endorse such claims.
Cost of Cosmedique
As with all these skincare products, there is the opportunity of a month's free trial. If you decide to take advantage of this, be aware that you must cancel your order of Cosmedique within the trial period of 30 days, or you will be billed for the full price of $187.50. Remember, it is a monthly deal and you'll have to pay $147.50 after every 30 days. So it is safe to cancel the subscription to avoid the financial loss. You can contact them via phone on (855) 315-7475 or +1 (954) 933-4515 or email at support@cosmedique.com
Concluding remarks
As we are not clear about Cosmedique's ingredients and how the serum will actually bring positive changes in our skin, we should never use this product. I'm not satisfied with its price structure either. So never use this cream.