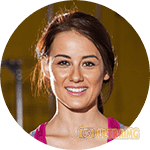 Defi Skincare Collagen Serum, in its website, claims to be quite different from its counterparts. How is it possible?
While most of them deliver hydrolyzed collagen molecules, Defi Skincare Serum claims to deliver whole collagen molecules to your skin, thereby making you look several years younger and fitter.
Can you believe the above which claims Defi Skincare made on its website? Read the review below to know if these claims are true or not.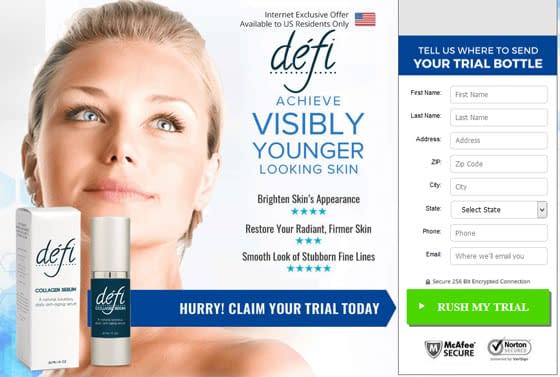 What does Defi Skincare Collagen claim?
Defi Skincare Collagen Serum claims to use natural and scientifically tested ingredients to restore the brightness and texture of your skin. When you look at the product's site, you will be thrilled to notice that it promises the following benefits for its regular users:
Overall improvement in the tone, texture, brightness, firmness, tightness and immunity levels of the skin
Visible reduction in the appearance of ageing spots like wrinkles, dark circles and ageing spots
Phenomenal improvement in the moisture content and hydration levels of the skin
Excellent increase in the skin's potential to produce collagen and elastin
Removal of elements causing stress, damage, dullness, breakage and discoloration of the skin
To know if these claims are true or not, you should know more about the cost and ingredients of this cream. Never trust these claims unless you have proper facts to validate the same.
What does Defi Skincare Collagen contain?
Defi Skincare Collagen Serum claims to vitalize, moisturise and replenish your skin in the most natural way by making use of active, effective, natural and peptide-rich ingredients. However, it doesn't mention the list of ingredients anywhere on its site. We were in for a huge disappointment when we check the website for the same. Since details about the components are not available, we are unsure about the effectiveness and authenticity of this product.
Pricing of Defi Skincare Collagen
Defi Skincare Collagen Serum is available on a 14-day free trial offer. To try this, you need to sign up for the same and pay $4.95 towards shipping charges. If you are not happy with the trial product, cancel your subscription within the trial period. If you don't, at the end of the 14th day, your credit card will be charged 98.41, towards the full retail price of the serum. You are automatically part of the auto-shipment policy of the serum as well. Hence, once in every 30 days, your credit card will be charged $98.41 every month for the shipments sent to you. To save yourself from these costs, you can call 855-564-7092 or email defiskincare@custservice247.com to cancel your subscription at the earliest.
Bottom Line
Though Defi Skincare Collagen Serum makes a lot of promises on its website, you should never invest in it, in haste. The serum doesn't reveal its ingredients openly on its website. Also, the serum is priced quite steeply and is governed by complex cancellation rules. Therefore, we suggest you stay away from this.