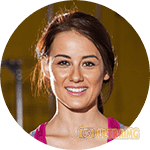 There are many creams on the market today that claim they will make women's skin look younger and revitalized. Eyeperla Anti-Aging Serum is yet another one of these products.
Now we are going to take a look at it and see if their claims are justified or not. We will also see if they have done their research and can prove that their product actually works or if it is all just hype.
We do not want you spending money on products that, in the end, do not work for you or, indeed may actually harm you, financially or otherwise.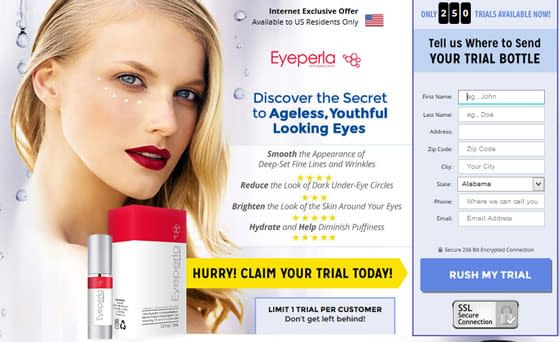 What Do Eyeperla Claim?
Eyeperla claim that their anti-aging serum will reduce wrinkles and lines on your skin and actually make your skin look 30% younger. Yet there is nothing that they say in their marketing sales page, or anywhere else, that seems to back up this claim and no proof whatsoever that this is true.
The Ingredients of Eyeperla Anti-Aging Serum
We have looked into the ingredients of Eyeperla Anti-aging Serum ourselves so that we can give you an informed opinion.
The main ingredient is something called Argireline. Now this has properties that are pretty much the same as Botox which, as you probably know, is used in injection form to combat the aging process. So far, so good! This would seem to back up the claim about the anti-aging properties of the serum, although there is no proof about the 30%. The other ingredients all have similar properties too. These are Lavandox, Hyaluronic acid and Tripeptide 1.
So it would seem that the serum is safe enough to use on your skin.
The Free Trial Offer by Eyeperla Anti-Aging Serum
Now there is a catch that you all need to be aware of! The cost of the serum is $84.95 which is pretty expensive for a product of this nature. However, potential customers are being offered a 15 day free trial and this is where you need to be very careful.
If you decide to take advantage of the free trial, you will firstly be charged $5.95 for postage. Then at the end of the 15 days you will automatically be billed for the full price of $84.95. Furthermore, the serum will continue to be sent to you regularly and you will continue to be billed for it!
The key to preventing this, is to cancel your order within the 15 day trial period. This fact is conveniently hidden somewhere in the small print on checkout page.
To Summarize
Eyeperla Anti-aging Serum can give you some benefits in combating the aging process because of the ingredients used. They are all recognized and safe to use and for this reason it can be recommended.
The problem is the cost of this product. It is expensive for what it is and, in our opinion, is not really worth it. There is also the hidden catch about the free trial, which you must be very careful about!
If you do decide to go ahead with the free trial and wish to cancel your order, then e-mail support@eyeperla.com or call Eyeperla customer support at 800 847 0042