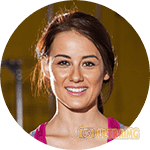 Kiara Collagen Serum is one of the new age beauty products in the market which promises you younger looking skin within no time at all. It claims to restore the firmness and brightness in your skin within a short period of usage, so that you can be relieved of painful surgical treatments, injections, Botox and the like.
The big question is whether you can trust these tall claims blindly. Definitely not! These beauty creams don't come cheap; therefore, it is recommended that you study in detail about them before agreeing to invest in them.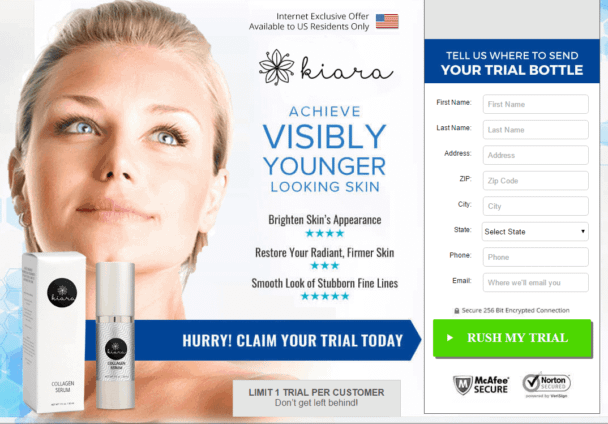 What Does Kiara Collagen Serum Claim?
If you are frustrated with your skin ageing symptoms and are looking for a magical solution to bring back the vitality in your face, the website of Kiara Collagen Serum will excite you to a great extent. This is because the product makes the following promises to its users:
Elimination of dark circles and puffiness under the eyes
Improves the skin's potential to produce collagen and thus reduces the formation of wrinkles
Keeps skin moisturized and hydrated at all times, thereby reducing the formation of cracks
Improves the overall immunity of skin and removes particles that make the skin dull and dry
What Does Kiara Collagen Serum Contain?
This is one area where Kiara Collagen Serum heavily disappoints us. We are not able to find any information regarding the ingredients of this product, from its site. Therefore, we are not able to recommend this product for users. Since there is an ambiguity about the contents, we are not sure how they will act effectively on one's skin and remove ageing related issues.
Pricing Of Kiara Collagen Serum
To know more about the cost structure of the Kiara Collagen Serum, you have to read through the small-font letters mentioned in the "Terms and Conditions" mentioned towards the bottom of the site.
The product is available for a free trial for 14 days, and you will have to pay $4.95 towards shipping charges. However, there is an important catch here that you have to watch out for.
If you are not satisfied with the product, you need to cancel within this 14-day period. If you don't, you have to pay the $98.41 charges that are slapped against you for the first month's usage. You will get this bill as soon as the trial period ends.
To add fuel to the fire, you will also be enrolled in an auto-ship program. This means you will continue to get monthly shipments of Kiara Collagen Serum products delivered at your address until you cancel your subscription completely.
You need to pay $98.41 every month for the same. To stay clear of these issues, you need to cancel within the trial period by calling 888-694-2941 or emailing kiaraskin@custservice247.com
Bottom Line
There are three big disadvantages of this product that stop us from recommending the same to users – ambiguity regarding ingredients, exorbitant prices and lack of transparency in the terms. We feel that there are better and cost-effective products in the market that can do a lot of good for your skin.